Become a member of our Award-Winning Oakhurst PTA TODAY!!
Join today for with NO TIME COMMITTMENT.
Your membership helps our PTA put on fabulous events such as the Daddy / Daughter Dance, Mother / Son night and our recent Welcome Back Dance!
We are able to hold amazing events like these thanks to our PTA members and their membership fee!
If you have already signed up that's ok, you can have aunts, uncles, grandparents, or anyone from our community join Oakhurst's PTA!
Your member fee directly impacts our incredible students at Oakhurst! Another bonus when you join Oakhurst PTA, you also receive a membership with Florida PTA and National PTA and all the benefits that goes along with that membership.
Membership form
If you have any questions please contact Denise Rohrs at rohrsd@gmail.com
Oakhurst PTA Thanks You! We wanted to beat our membership from 2017-2018 of 363 members and thanks to you we did!! We currently have 370 members, but we can do better with your help!
Join the Oakhurst Elementary PTA and be a part of a team that helps our students be the best they can be! The Oakhurst PTA is an award winning non-profit organization comprised of parents, teachers, staff members and others who are committed to making each school year successful. Your membership fees help to support the mission and purpose of the National PTA, as well as that of the Oakhurst PTA. You do not commit yourself to endless meetings or tons of volunteer hours, but you show a commitment to children and families.
If you would like more information or are interested in a Business Partnership Membership please e-mail Denise Rohrs at rohrsd@gmail.com.
Please visit the National PTA website, PTA.org, to sample the benefits you'll reap when you join PTA.
PTA members enjoy a discounted rate at Legoland!! Log on to https://floridapta.org/ for more information.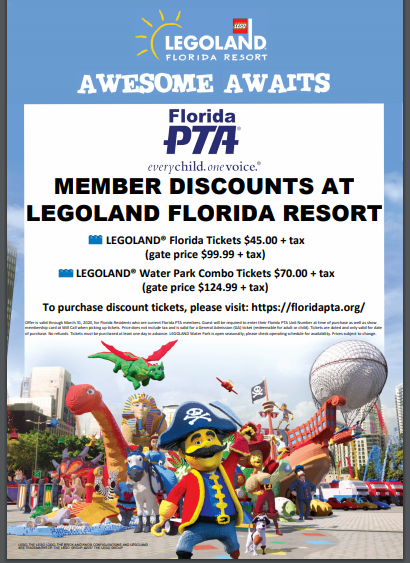 Contact Us:
Oakhurst Elementary PTA
10535 137th Street North, Largo, Florida 33774
www.oakhurstpta.com